Dr Amanda Craig
BVSC, M.VET CLIN STUDIES MANZCVS
Dr Mandy is a local from some time ago; having grown up in Goulburn. Having been a Vet now for over 30 years, Mandy has a wealth of experience working all over the world including SASH (Vet ICU) in Sydney, the Royal Veterinary College London and the Veterinary School of Toulouse as well as general practices in Canberra. Her love and passion is helping people look after the animal members of their family. To this end, she has undertaken further study in dermatology and ultrasound and has a keen interest in pharmacology particularly with respect to behaviour, hormones and heart problems. She is easy to chat with so if you have concerns big or small, she will always try to help. She loves cats and dogs equally although has an especially good rapport with cats, (the subject of her master's thesis). Mandy and her husband Richard Dowsett as the new owners of STVH are both excited to continue the wonderful work of the STVH team in the beautiful state of the art hospital created by Dr Ian Hayes and Dr Gail Versluis.
Dr Maddy Reichstein
BVSc DVM
Dr Maddy graduated from the University of Adelaide at the end of 2020 and has recently moved from Adelaide to Goulburn to join our team. She grew up spending time on her grandparents Merino sheep farm and has lived across SA before settling in Adelaide. Maddy has previously worked as a dog trainer, has a keen interest in behaviour and diagnostic imaging and likes working with all animals, including reptiles. At home, Maddy has two cats and a Woma python as well as a family dog back home. Maddy enjoys meeting new people and animals and always enjoys a bad joke or two!
Dr Kate Eppleston
BVSc (Hons 1)
Dr Kate graduated from the University of Sydney in 2012. Following graduation she started working at a small animal clinic in the Southern Highlands and worked there for the past 8 years. She has finally made the move to Goulburn is now working with us part time. She has a keen interest in both medicine and surgery cases but also has experience with canine reproduction work. Dr Kate shares her home with her partner Glenn, along with two staghounds, a kelpie and a cat.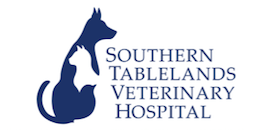 Dr Stephen Laing
BVetBiol/BVetSc
Stephen graduated from Charles Sturt University in 2015. Following graduation Stephen worked in a mixed practice on the NSW South Coast for two years. After this he did a locum stint in a mixed practice in South West Victoria. He has spent the last four years working in a mixed practice in the NSW Southern Highlands. Stephen started working here at Southern Tablelands Veterinary Hospital in July 2021. Stephen enjoys all aspects of veterinary practice and has experience treating a range of different animals. Outside of work Stephen enjoys spending time with his wife Lauren and their two young children. They have a Cavoodle named Kingsley. Other hobbies include spending time on the family farm, snow skiing and cooking.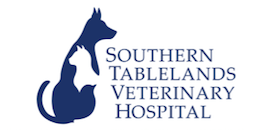 Dr Alana Ryan
Veterinarian
Dr Richard Malik
DVSc DipVetAn MVetClinStud PhD FACVSc FASM MASID
Richard Malik is a respected and well-known internal medicine specialist. He is especially known for his special interest in cats and infectious diseases. After graduating from the University of Sydney in 1981 he initially trained in anaesthesia and intensive care at Sydney University Veterinary Teaching Hospital. This was followed by a PhD (neuropharmacology) in the Pharmacology Department, John Curtin School of Medical Research (ANU). He then moved to the Neurobiology Research Centre at Sydney Uni studying development and plasticity of neuromuscular connections. In 1987 he returned to the Department of Veterinary Clinical Sciences as its first Resident in Small Animal Medicine. He remained in the "vet school" for 16 years in varying capacities and was the Valentine Charlton Senior Lecturer in Feline Medicine from 1995 to 2002. Currently, Richard works as a consultant for the Centre for Veterinary Education, various private clinics in the eastern suburbs of Sydney, and Southern Tablelands Veterinary Hospital. He is also involved in a large number of collaborative research projects in both pure and applied research. Richard is an Adjunct Professor at Charles Sturt University where he lectures vets who have an interest in rural practice as well as companion animals. He is passionate about all aspects of canine and feline medicine and has a special focus on treating common diseases using new therapeutic regimens. His current research areas include genetic diseases of cats and dogs, infectious diseases and parasitic diseases. More specifically, he is an authority on mycobacterial diseases, fungal diseases including cryptococcosis, antibacterial and antifungal drug therapy and neural angiostrongliasis.
Dr Kim Bensch
BVSc (Hons 1) MANZCVS
Kim graduated from the University of Sydney in 2010 and then spent 8 years working in mixed practice in Lithgow. Kim enjoys general practice, but her special interest areas are dentistry and behaviour. Outside of work Kim loves to spend time with her greyhounds and horses.
Katrina Watson
Practice Manager
Born and raised in Goulburn, Katrina previously worked as a Vet Nurse in Sydney for 8 years before starting with us in December 2014. We are very lucky to have Katrina as she is a wealth of knowledge when it comes to Veterinary medicine. Katrina spends her time running after her son Angus and looking after her cats Pepper and Milo and Henry the Bearded Dragon.
Claire Rowan
Senior Veterinary Nurse
Claire joined us in March 2014 to start her career as a veterinary nurse, going onto complete her Cert IV in Veterinary Nursing at TAFE. She grew up in Goulburn, attending Goulburn High School. Claire has just started back with us part-time after welcoming her beautiful baby boy into the world. Claire has the coolest cat on the block O.G. and the happiest of Labradors Sunny.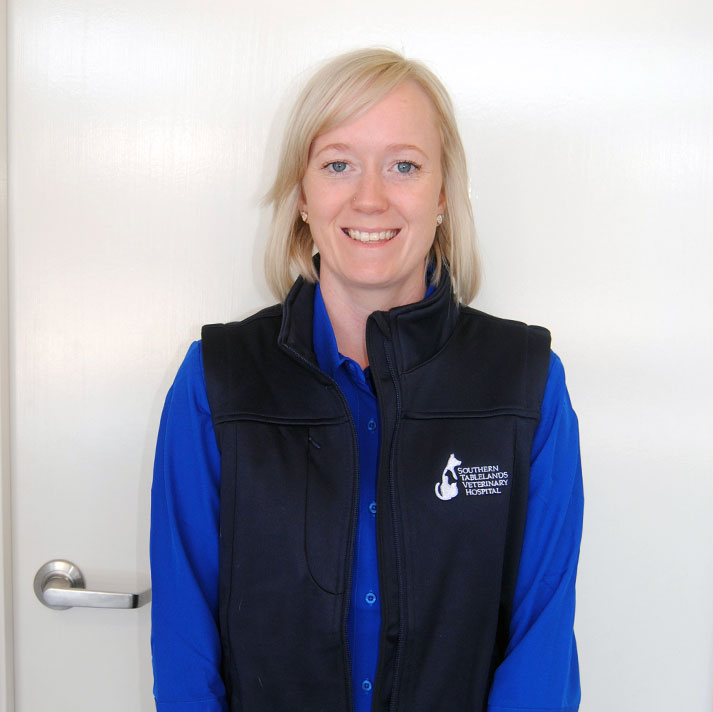 Chloe Ryan
Senior Veterinary Nurse
Chloe has been with the practice since July 2012 after finishing high school. Chloe completed her Cert IV in Veterinary Nursing in 2014. When not at work Chloe can be found chasing after her two gorgeous kids or spinning around barrels on her horse nearly every weekend. Chloe has an assortment of animals including many horses, lots of dogs and some brand new chickens.
Kayla McGuire
Veterinary Nurse
Thomas Ripphausen
Junior Veterinary Nurse
Thomas joined us in September 2018 to start vet nursing and is now studying his Cert IV in Veterinary Nursing at TAFE. He grew up in Marulan and attended Mulwaree High School.
Rylee Bowles
Junior Veterinary Nurse
Rylee started as a weekend junior Vet Nurse and is now working with us full time whilst studying her Cert III in Animal Studies at TAFE. Rylee has two adorable Cavoodles Evie and Indie.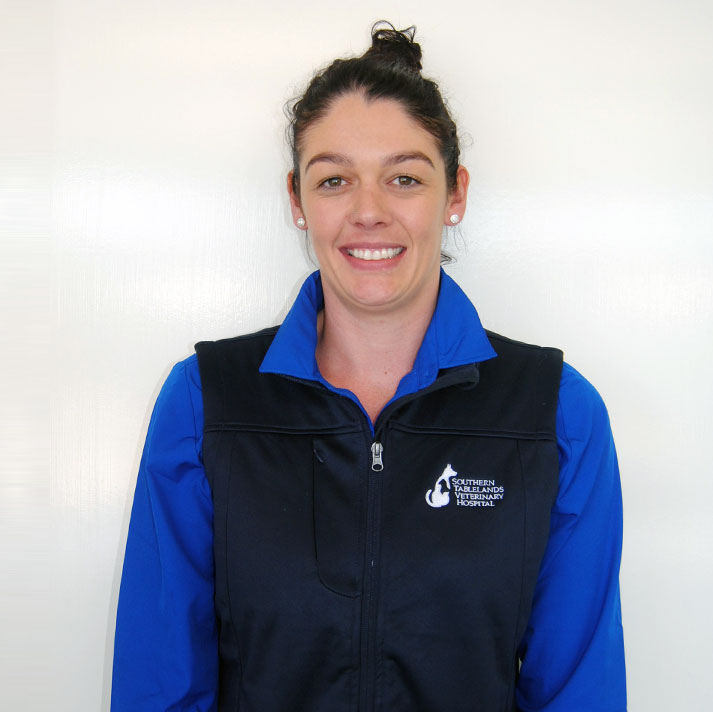 Larissa Giddens
Receptionist/Trainee Veterinary Nurse
Larissa joined the team in 2020 as a receptionist and is working towards completing her Cert IV in Veterinary Nursing at TAFE. Larissa can be found most weekends competing in Team Sorting with her horse Chico. She also has the cutest companions in Rascal, a Mini Fox Terrier and Poppy, a Mini Fox Terrier X Jack Russel Terrier.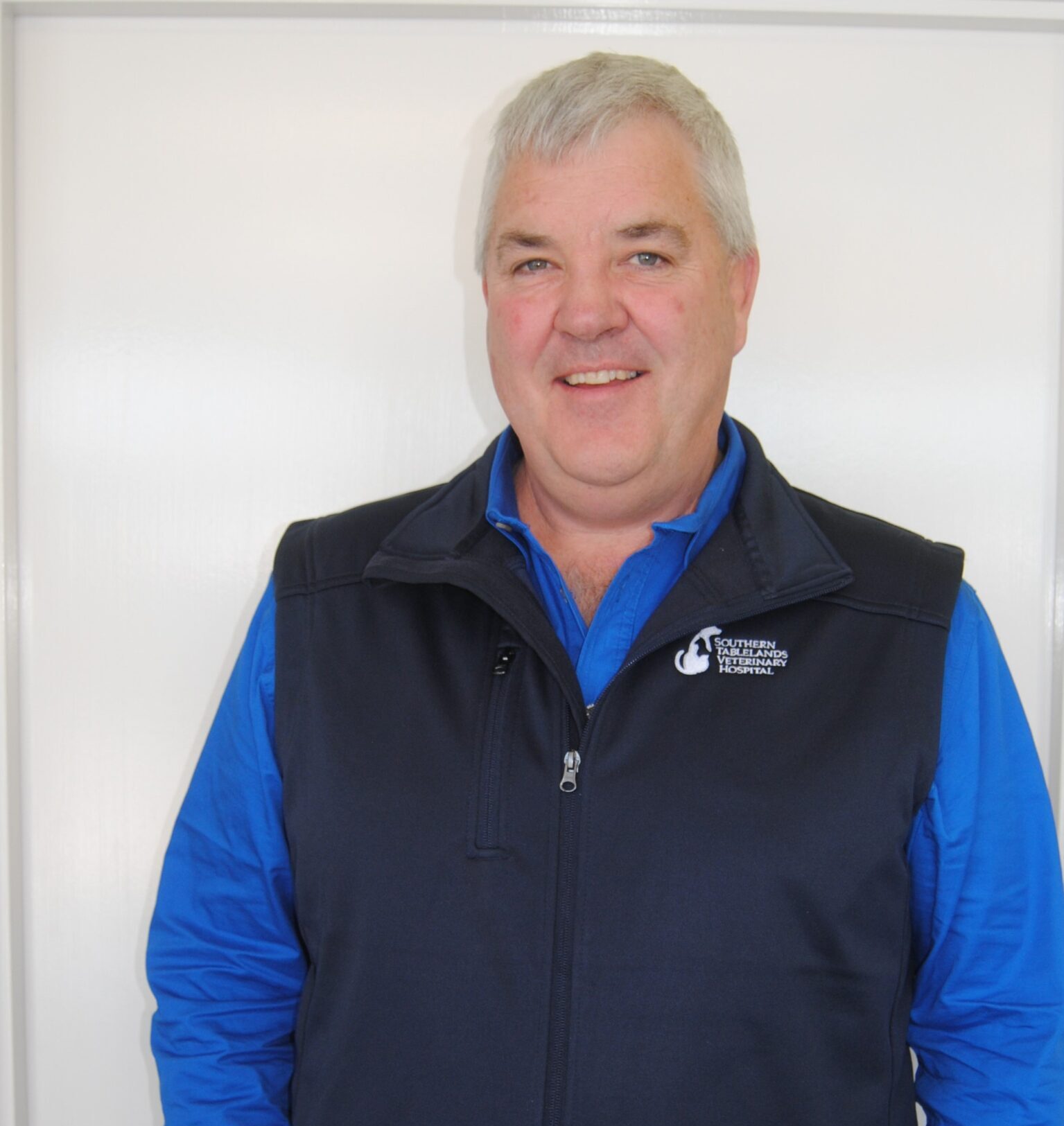 Richard Dowsett
Business Manager
Richard has an extensive background in farming and a degree in Agricultural Economics. Richard is co-owner of STVH with Amanda and also the proud father of Archie, the hospital superintendent.
Janaya Goulthorp
Receptionist/Trainee Vet Nurse
Janaya joined the STVH team in June 2021. Most days you will Janaya's friendly face at the reception desk however she is also working hard on her nursing skills to hopefully commence her Cert IV in Veterinary Nursing in 2022. Janaya has three beautiful dogs Sammy, Iggy and Dez and a new little kitten Prada.
Archie
Hospital Superintendent
Archie joined the hospital in 2019 after moving from up North with his father Richard. Although Archie runs a tight ship here at STVH all the staff have nothing but respect and endless cuddles for him.